55th Reunion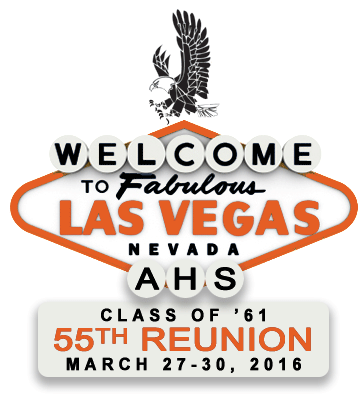 AHS CLASS OF '61 55TH REUNION
(and friends from classes of '59, '60, '62, and '63... and more)
SUNSET STATION HOTEL & CASINO
Only 4 rooms left in our block of reserved/special rate rooms. So whatcha waitin' for? Get off that La-Z-Boy and hit the computer.
Call the Sunset Station Reservation Office at 888-786-7389, ask for "reservations."
Give the OFFER CODE:

SCI55TH

. You can then book a room for $39 per night (tax and hotel service fee included = $57 per night), THIS RATE IS AVAILABLE ONLY UNTIL 2/26/16, OR
Book on line at http://sunsetstation.sclv.com/hotel using the same OFFER CODE and following the prompts (putting offer code in the "Offer Code" box; clicking on "Book Now!"; selecting date of arrival [March 27], number of nights [3] and room type [King or Double-Queen] and then clicking "Get Rate." You will be asked to provide a credit card and pay for the first night. A room can be canceled with 72 hours notice without penalty. Let us know if you have problems and/or need assistance. If all our reserved rooms are sold out, we may be able to obtain more at the same great rate.
Contact us to let us know you have registered:

Joel Wight: wightjoels@aol.com; 425-941-5630, or
Ginger (Harris) Metcalf: gingermetcalf@comcast.net
Check out our event web site
at
http://ahs55threunion.com
(thank you tech guru Talbert) and if your name IS on that list, there are still a few steps to take:
Send your name (including maiden name if female), class year, current contact info, mailing address, e-mail address, home phone, cell phone, spouse/partner name) to gingermetcalf@comcast.net and we'll update our records. ALSO, if you are in contact with other classmates, please share this request with them. If we can't find you, we can't keep you informed.
If you plan to attend the Monday night (3/28) banquet, send $60 per attendee to:
Ginger Metcalf
400 W. 8th St., #402
Vancouver, WA 98660
Thanks to those of you who have sent your checks. We must have payment prior to the reunion so we can let catering know how many to prepare for... AND we'll know to let you in the door.
If you have photos to share with the group, scan and e-mail them to Larry Talbert for inclusion in a rotating photo video: reunions, first grade, prom, sports... start digging through those boxes and share your best with us. E-mail to Larry Talbert: fats@mefats.me
Let us know what you would like to see and do in Vegas. We have some ideas (see previous update) but yours may be better.
Tattoo this number on the back of your left hand... 528... it's the hosted bar with plenty of snacky/finger foods where you will check in... open 24/7 (or almost), attended by Larry Talbert and Doreen (Dunnigan) Donald. Gratuities/Donations gratefully accepted and appreciated. It's a place to pick up your name lanyard, hang out, visit, catch up, try and figure out who belongs to that face, peruse annuals, see pictures, check things to do, places to go and people to see in Vegas. It's "home base" for the reunion.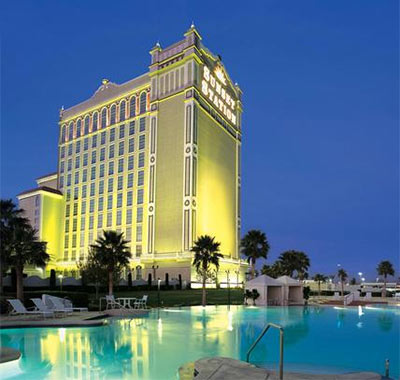 Sunset Station Hotel & Casino
Information that we have so far on transport from the airport to Sunset Station:
Taxi, $50 (check to see who is arriving about the same time you are... we may be able to help)
Super Shuttle, $23/person (we'll try to get more information to share later)
Again, check out the
event website
for updates. Most likely we will have one more e-mail update prior to March 27
(ANOTHER REASON WE NEED YOUR CURRENT CONTACT INFORMATION)
.
Samples of tourism opportunities:
Weather forecast: temperatures to be in the 70's. Whooo-pee!!!!
Your planning committee:
"First in work, first in fun, senior class of '61!"
Joel Wight, wightjoels@aol.com
Ginger Harris Metcalf, gingermetcalf@comcast.net
Larry Talbert
Doreen Dunnigan Donald
50th Reunion
Celebrate summer solstice in the Land of the Midnight Sun!
The 50th Reunion was a 3-day event held June 17-19, 2011, staged at the Hotel Captain Cook and Kincaid Park. Details of each day's events are provided in the Reunion Schedule below.
Who Won the Quilt?
The "Eagles Aloft" signature quilt, designed by our very own Sigrid (Strand) Bryant as a special, one-of-a-kind prize for the 50th reunion, was won by Kathleen (Kirkpatrick) Pierce. Congratulations, Kathleen!

Kathleen lives outside of Alaska, and as she felt the quilt should remain in the state, she has entrusted it to the care of Ken Odsather in Anchorage.

Reunion Schedule
Here is the full slate of reunion events. Clicking the Google Map links below will zoom you into the relevant area of our 50th Reunion Master Map.
Event:
School Photo Opportunity

Time:
2:30 pm
Location:
Anchorage High School

1700 Hillcrest Drive

Google Map
Event:
Picnic
Time:
12:00 noon - 4:00 pm
Location:
Kincaid Park

6998 Raspberry Road

Google Map
Reunion Committee Newsletters

The Opportunity of a Lifetime
(March, 2011)
Download [

PDF]

Get Ready for the 50th Reunion
(January, 2010)
Download [

PDF]

50th Reunion Planning Notes
(April, 2008)
Download [

PDF]
Special 50th Reunion Prizes
These classic, one-of-a-kind mugs were offered as door prizes at our 50th Reunion!
Design: Black mug featuring gold imprint of school emblem, with "AHS ALUMNI" printed underneath.
Quilt-making is one of Sigrid (Strand) Bryant's passions. As the result of Sigi's love for her fellow classmates, combined with her generous spirit, we now have a wonderful gift, one which can also raise some money for our reunion treasury.
This is a signature quilt, one which will be signed by as many classmates as possible between now and our 50th Reunion, utilizing a special acid-free pen.
Sigi chose the fabric, pieced it in a star pattern, and had it quilted by a professional quilter, Lana Corcoran in Iowa.
Some lucky classmate will take this one-of-a-kind quilt home with them at the end of our 50th Reunion!
Design: Fabric with eagles, bound with orange & black, our school colors. Our class motto is stitched on the label.
45th Reunion
The graduating class of '61 held the AHS 45th High School Reunion Dinner at the Sheraton Anchorage Hotel on August 19, 2006. It was an enjoyable night for all, with higher-than-expected attendance.
Have a look at some photos from the 45th reunion on the Photos page.